As previously discussed, the business of college admissions today mandates administrators meet four key performance indicators:
Fill every available freshman seat;
By accepting the fewest number of "eligible" applicants;
While maximizing tuition revenue; and then
Keeping those seats occupied all the way thru to graduation.
To truly understand the scope of college admissions today, you need to widen your perspective by including enrollment management systems, today's true engines of college admissions and merit aid decisions, within your frame of reference.
Colleges are increasingly turning to advanced enrollment management systems and enrollment consultancies to help them make better informed business decisions about their prospects and applicants. Using big data algorithms, today's enrollment management systems are designed to monitor and measure a diverse set of predictive data feeds to proactively assess an applicant's probability to enroll, ability to pay, and likelihood to graduate. Big data analytics, put simply, is the aggregation of crucial data points used to create a predictive model. Student demographic data and online behavior — just like your own data and online behavior on Amazon, Twitter, Facebook or Google — can be and is being mapped.
"Predictive analytics is the use of data, statistical algorithms, and machine learning techniques to identify the likelihood of future outcomes based on historical data."
Although each vendor's enrollment management system differs in methodology and design, like all predictive analytical tools, they aggregate data from a variety of sources and then assign outcome probabilities based on historical data models.
Let's take a closer look at the most common data feeds analyzed by today's enrollment management systems.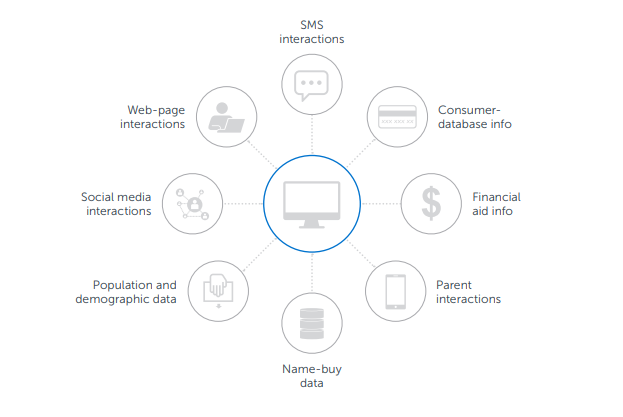 The first thing people usually notice about this schematic is how none of these data feeds flow from the college application itself. No transcripts, no GPA, no SAT scores, no recommendations, no personal statement, no essays. Yet, these feeds help colleges project several critical attributes about an applicant during the admissions review process. Most notably an applicant's intention to enroll, their likelihood to succeed, and their ability to pay.
"Schools can now get a complete picture of their applicants, including what they're saying and thinking about them on Facebook, LinkedIn, Instagram, and Twitter – which could be even more meaningful than traditional data points like GPA and SAT."
— THE CHRONICLE OF HIGHER EDUCATION
How widespread is this predictive enrollment management phenomenon?
Beyond the fact that over 75% of colleges are currently using these systems and 90% of private colleges consider enrollment projections when making undergraduate admissions decisions, even standardized test makers are getting into the game.
Over the past few years, under the leadership of chief executive Marten Roorda, ACT is now increasingly selling products and services to colleges for their enrollment management operations. Having put tens of millions of dollars into several major acquisitions and investments, Roorda believes that ACT's capabilities in data, measurement, and analytics, whether homegrown or newly acquired, can make the organization a major figure in various stages of the student life cycle. One of the companies acquired by ACT, Encoura, even operates to the following mission statement: "We encourage higher education institutions to make more informed decisions that optimize fit and create the highest probability of success." Not to be outdone, the College Board also packages student demographic data collected during PSAT/SAT exams as a premium data feed into college enrollment management systems.
Big data and predictive analytics work best for both the college and the student when the system is able to connect an applicant to their online activities with a high degree of certainty. Almost all college enrollment management systems use the college website as the central hub to make this critical base level identification. Website analytics routinely measure a visitor's browsing activities such as page visits and time spent on each page but, unless visitors identify themselves by providing their name and email address, they often remain anonymous beyond their registered IP address.
Check out the admissions pages of any college website and you will almost certainly find a prompt to either register with or request more information from the university. Sometimes these registration links are not readily apparent because colleges do not want the casual website visitor to register. To counter that, many colleges will embed their registration links deep within their admissions pages. Some schools use a pop up registration page that surfaces when you hit a certain time limit or navigate to a certain page. For example, when you click the link to see a virtual tour of the College of Charleston campus you will first need to complete a registration form. The amount of information that colleges try to collect via a website registration interface typically goes much deeper than the student's name and email address.
"Because colleges cannot retain and graduate students who will not enroll, then learning how to populate the data feeds that colleges are now monitoring and measuring will position your students for the best possible admit and merit aid outcomes."
Enrollment management systems use this collected information to connect several critically important algorithmic dots. Once a college confirms the identify of a website visitor, then automated tracking pixels are unleashed to search social media for accounts containing matching metadata while also connecting relevant demographic and financial aid data feeds. These verified feeds enable colleges to assign key probabilities and success metrics to the applicant and/or prospect based on historical data.
Notice the prominence of "likelihood to enroll" and student engagement on the model enrollment management dashboard below: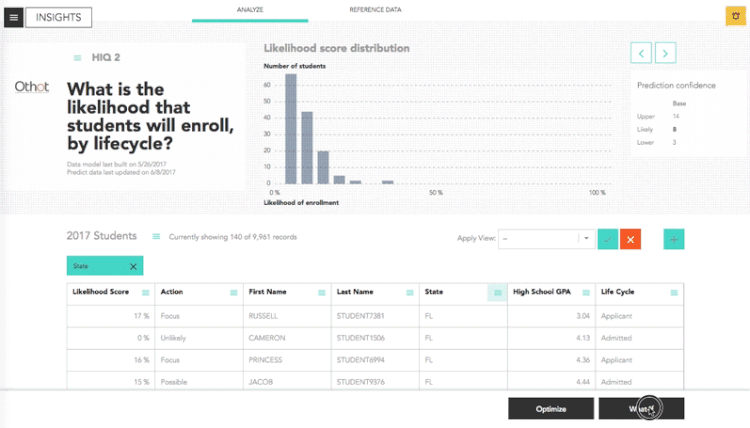 It is in the best interest of college bound students to self-identify themselves to enrollment management systems. This self-identification will enable the colleges they are interested in attending to populate their data feeds and track their social media engagements. Remaining a stealth applicant has no inherent benefit whether that student is being positioned for a safety, target, or reach college opportunity.
Beyond increasing the enrollment probability ratio by spending time on the school's website and following college social media accounts, applicants can also use these same digital tools to demonstrate to the school that they are a good fit and possess the personal qualities needed to matriculate through to graduation.
When just a fledgling online bookseller, Amazon realized that if Person A liked a book and Person B liked the same book, then it was highly probable that Person B would consider buying another book that Person A also read and recommended. Often times, the building blocks of big data predictive analytics are this basic.
Much like Amazon's realization that people who like the same things share a commonality that can drive predictive behaviors, colleges are looking at non-cognitive data points to predict which students are destined to succeed, based on what they've learned about students who have already performed well. This correlation helps to explain the current college trend of deploying student blogs and social media ambassadors as a predictive measure of college fit and interest.
Selected student bloggers and social media ambassadors often reflect a cross section of students coming from a variety of backgrounds and representing diverse academic interests. Despite the differences, all of these students have one thing in common – they are all thriving at their respective college campuses. An applicant's online engagement with these specific web pages and social media accounts are closely monitored and measured. Just take a closer look at the Pitt Social Media Ambassador Twitter accounts. All of these accounts are owned and managed by the university.
Most colleges maintain a plethora of social media accounts that run across Facebook, Twitter, YouTube, LinkedIn, Pinterest, and Instagram. Beyond the main college and admissions social media accounts, each college within a university and even each department within a college will often have their own unique social media presence. Scroll through the full social media account directory for Syracuse University. You'll be surprised at the results.
Enrollment management systems do more than measure engagement with a school's website and social media accounts. They also know when an identified applicant follows the college from their personal social media accounts, which will almost always trigger a system-generated email to the applicant (this will be discussed in detail in the third installment of this series). The systems can also track questions asked via social media and comments posted to social media accounts.
Algorithms can even be programmed to assess an applicant's interests based on their social media activities. With technology serving up the exact data models colleges request, recruitment and admissions professionals can embrace a strategy that is similar to how baseball teams analyze player statistics to put together the perfect team. "It's about using the data to help shape a freshman class that's going to graduate," says Brian G. Williams, vice president for enrollment management and marketing at Roger Williams University in Rhode Island.
Naturally, each college may have its own set of success characteristics. At New York Institute of Technology (NYIT), for instance, students who show a strong interest in design, problem-solving and using their hands are likely a better fit for the highly technical programs than are those who lean toward liberal arts.
"That information can't easily be gleaned from a GPA or SAT score. What we're looking for is that aptitude, that interest—which can be deduced by social media profiles, and from activities in high school and outside of the classroom. It's why someone who identifies as a gamer and who loves science fiction and enters math competitions would likely be a better fit at NYIT than someone who's an Emily Dickinson buff."
— MARK HAMPTON, VP FOR ENROLLMENT AND ENTERPRISE ANALYTICS
Like all things digital, the use of data in college recruiting and admissions has only just begun. "We've moved from traditional institutional research to business intelligence to data science departments," says Hampton. "Most universities realize this is how you need to play the game. And if not, you'll be at a competitive disadvantage."
If college enrollment management systems are working to assess applicants across a multitude of metrics by processing terabytes of demographic data and online activities separate and apart from the Common Application, then what can applicants be doing to optimize these activities?
"The medium is the message."
— MARSHALL MCLUHAN
This legendary phrase means that the form of a medium embeds itself in any message it would transmit or convey, creating a symbiotic relationship by which the medium influences how the message is perceived. First conceived in 1964, this statement resonates even stronger today with the advent of social media.
Students need to understand that their social media and website engagement is delivering demonstrated interest to colleges on steroids as their "Digital DNA" is being transmitted in each and every social media like and follow. This means that it is incumbent upon every college applicant to make sure their social media captures the digital narrative they want to convey to college enrollment management systems and admissions decision-makers. This is much more than simply cleansing their social media to erase provocative posts. This entails forethought to produce an online presence designed to present their authentic selves to colleges in compelling, positive, and distinguishing ways.
This was from a blog originally published by Social Assurity. Check them out at https://socialassurity.com/